ニュース
【Register Now!】The 5th Symposium for Ph.D. Program in Humanics, "Bio-informatics on the Front Line: Future Developed by Cross-Sectoral Collaboration" will be held online via Zoom on Sep 26, 2022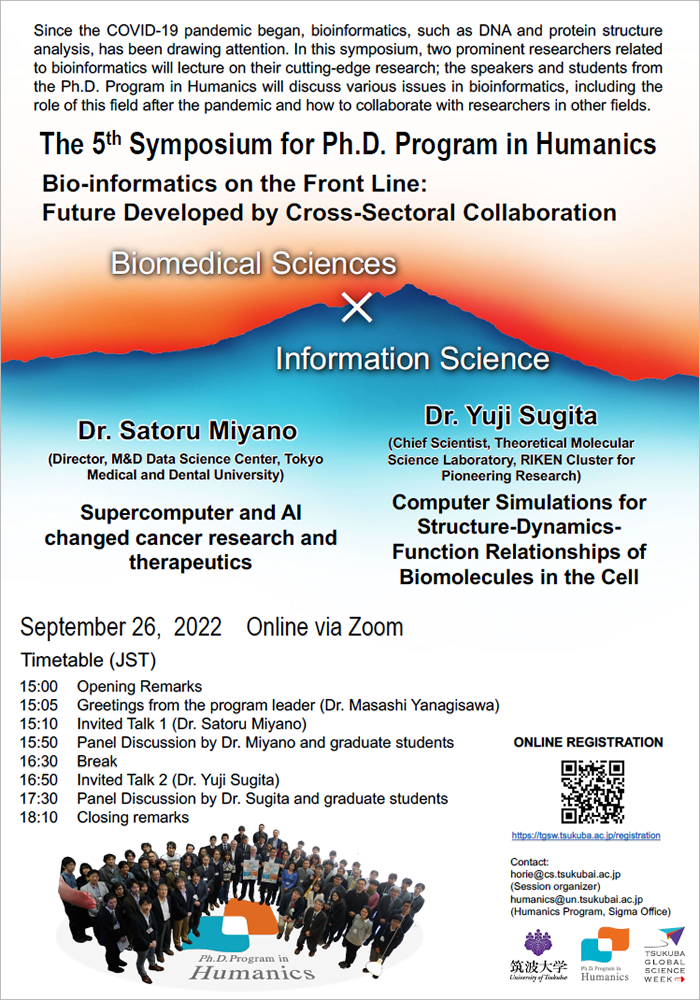 We are pleased to announce that the 5th Symposium for Ph.D. Program in Humanics, "Bio-informatics on the Front Line: Future Developed by Cross-Sectoral Collaboration" will be held online via Zoom on Monday, September 26, 2022 during the Tsukuba Global Science Week (TGSW) 2022
(https://tgsw.tsukuba.ac.jp) .
●Date: Monday, September 26, 2022 15:00-18:10 (JST)
●Online via Zoom webinar
●Language: English
●Participation fee: Free of charge
Since the COVID-19 pandemic began, bioinformatics, such as DNA and protein structure analysis, has been drawing attention. In this symposium, two prominent researchers related to bioinformatics will lecture on their cutting-edge research; the speakers and students from the Ph.D. Program in Humanics will discuss various issues in bioinformatics, including the role of this field after the pandemic and how to collaborate with researchers in other fields.
■Timetable (JST)
15:00
Opening Remarks
15:05
Greetings from the program leader (Dr. Masashi Yanagisawa)
15:10
Invited Talk 1
Dr. Satoru Miyano (Director, M&D Data Science Center, Tokyo Medical and Dental University)
Supercomputer and AI changed cancer research and therapeutics
15:50
Panel Discussion by Dr. Miyano and graduate students
16:30
Break
16:50
Invited Talk 2
Dr. Yuji Sugita (Chief Scientist, Theoretical Molecular Science Laboratory, RIKEN Cluster for Pioneering Research)
Computer Simulations for Structure-Dynamics-Function Relationships of Biomolecules in the Cell
17:30
Panel Discussion by Dr. Sugita and graduate students
18:10
Closing remarks
■Online Registration(from late August)
We would like to warmly welcome you all to the session.
Please access the following URL and register to participate in Session 5-4.
https://tgsw.tsukuba.ac.jp/registration

■Contact
Session Organizer:
HORIE Kazumasa, Center for Computational Sciences, Assistant Professor
horie@cs.tsukubai.ac.jp
Ph.D. Program in Humanics, SIGMA Office
humanics@un.tsukubai.ac.jp